PIANO DUETS with
one easy part.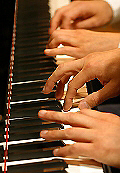 | | |
| --- | --- |
| In 1878 a group of four Russian composers published a work they called Paraphrases. Alexander BORODIN, Cesar CUI, Anatole LIADOV and Nicolas RIMSKY-KORSAKOV subtitled the music "24 variations and 14 little pieces for piano on the 'theme favori et oblige'" | |


and dedicated it to "little pianists capable of executing the theme with one finger of each hand". The composers remained true to the promise that the little pianist's contribution is entirely limited to repetitions of this theme. But the variations are ambitious and ingenious, not only wandering into remote keys (such as Db) and using disconcerting cross-rhythms; the latter have benn known to unnerve even experienced musicians who condescended to play the "easy" part.

These Paraphrases are certainly a remarkable example of an interesting genre - music for piano duet with one easy part, written with the aim of providing a rich musical experience for those in tne early stages of learning to play the piano. Perhaps the best-known (and certainly one of the best) is Faure's Dolly Suite. Another example (available from this page) is Haydn's Il Maestro e lo scolare: in this the two parts are of more or less equal technical difficulty, but the Master helps the Scholar by playing each phrase first, thus no doubt providing a model of perfect phrasing.